About Us
We are a group of labs and researchers within the Computer Science Department at the Courant Institute of Mathematical Sciences at New York University. Our group consists of faculty, postdocs and graduate students whose interests range from visualization and computer graphics to computer vision and machine learning.
RESEARCH HIGHLIGHT
Dark Flash Photography
Dilip Krishnan (NYU), Rob Fergus (NYU)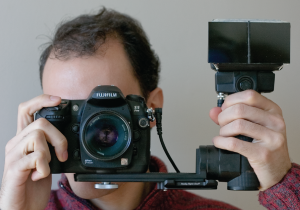 Camera flashes produce intrusive bursts of light that disturb or dazzle. We introduce a prototype camera and flash that uses infra-red and ultra-violet light mostly outside the visible range to capture pictures in low-light conditions. This "dark" flash is at least two orders of magnitude dimmer than conventional flashes for a comparable exposure. Building on ideas from flash/no-flash photography, we capture a pair of images, one using the dark flash, other using the dim ambient illumination alone. We then exploit the correlations between images recorded at different wavelengths to denoise the ambient image and restore fine details to give a high quality result, even in very weak illumination.